Your Guide to Laurel, MS (Part 1)
With the premiere of HGTV's newest show, Home Town (Tuesday nights!), my humble hometown has become the center of attention.
I see article after article highlighting not just the show and the hosts, Erin & Ben (who are amazing!), but the town as a whole. It's crazy to watch your hometown be revitalized on national tv! I'm so thankful for all of the new businesses popping up around downtown and the energy and love that's filling the previously abandoned buildings.
Because people know that I'm from Laurel, I get a few messages a month asking for recommendations of what to do in Laurel for a day trip. If you're planning to make a pilgrimage to the quaint little town, here are a few of my favorite stops:
The flagship store of, Home Town, is quickly becoming one of our favorite places in all of downtown. Every piece of inventory and every display is perfectly styled to be cozy, homey, and friendly (my three favorite feelings!). Luke and I love looking through the displays and smelling the candles. We have the Laurel Candle and it's the perfect scent for springtime! Luke ALWAYS has to look at the Scotsman products. I shared in an earlier blog that he wears the Scotsman cap every day. He now has 2!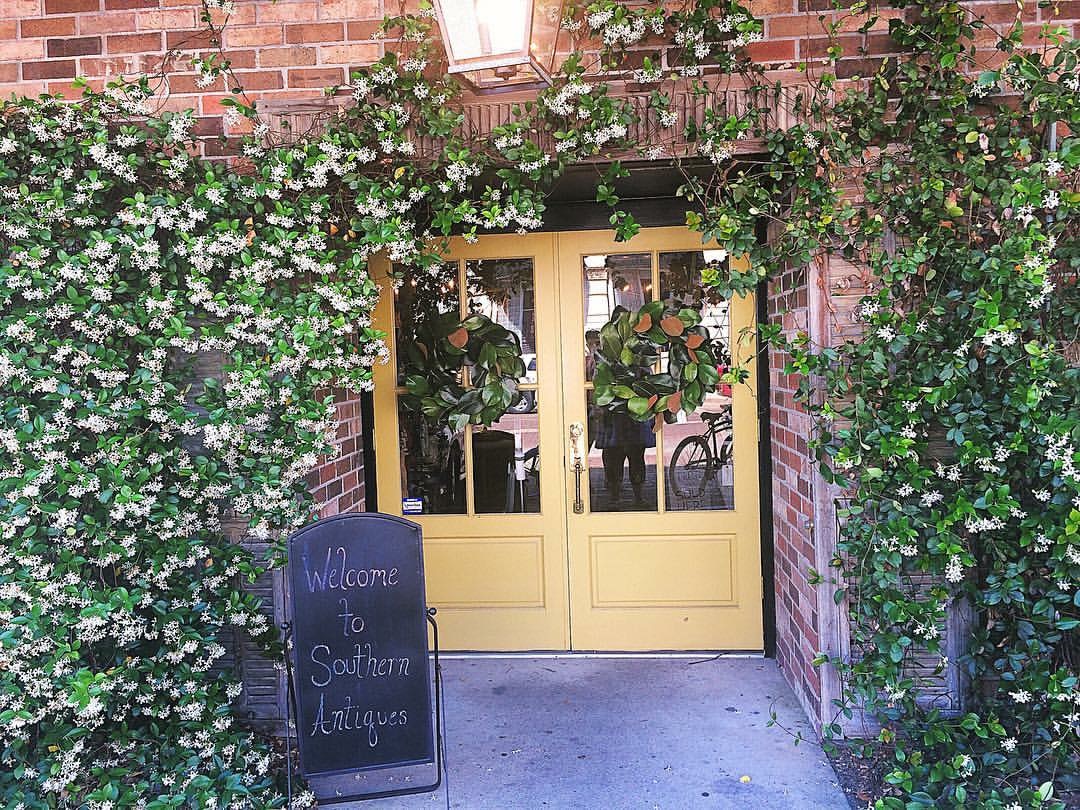 The Southern Antique Mall is a long-time favorite shop. There are SO many beautiful things in this 2 story shop. Everything is beautifully styled and thoughtfully arranged. It's an inspiring place to walk in! FYI - this is not an actual antique store. Don't come here planning to go junkin' for thrift store pieces and prices. It's an actual shop with beautiful things for your home, clothes, accessories, kitchen items, and pretty much everything else.
They ALWAYS have the most beautiful Christmas displays!
I LOVE popping into Adam Trest Home to see long-time friends, Adam and Lily! Their store is perfectly curated with drool-worthy home goods for every room in your home. Adam and Lily have flawless taste and it's on display in their magnificent store. Adam is an incredibly talented artist and his designs are simply stunning! Also, this building has insanely beautiful floor tile.
Far and away the best cup of coffee you can get in Laurel. I was in college when Lee's opened downtown. It's so cool to see a business start and thrive! I had to snag this photo from the Lee's Facebook page. The picture I took, didn't turn out super well #notaphotographer. Anyways, the food here is great, the coffee tastes good, and it's in a prime location for downtown walking!
While you're downtown, drive over a couple of miles to go to PDI's for a cheeseburger and fries. PDI's was my Papaw Alvis' favorite burger place. Actually, it's everyone's favorite burger place. It's been around for forever and there's nowhere to sit, but you don't care because the food is that good!
Go here for Cinnamon Rolls and Sticky Buns. No need to elaborate. They're amazing.
The Laurel Wall
Be a tourist and take your picture in front of this awesome wall! There are really great murals all over town, too!
I'm going to break this up into a few different posts. There are some new to me places, that I want to learn about and try and there are new businesses popping up all over the place! Stay tuned for Part 2!